There's a type of retirement plan that's in the "401 family" that gets little attention.
Maybe that's because only a relatively small number of employers offer it, even though the number of employees participating in the plan is probably in the millions.
It's called the 401(a) plan, and while it's much like the 401(k) plan in most respects, it mostly covers government workers and school and college employees.
So, let's take some time to delve into 401(a) plans and the rollover rules that apply to them.
What Is a 401(a) Plan?
A 401(a) plan is a money purchase type retirement plan, typically sponsored by a government agency. Under the plan, the employer must make contributions, but the employee may make contributions. Those contributions are either based on a percentage of income or even a certain dollar amount.
Government agencies that typically use 401(a) plans include:
The US Government or its agency or instrumentality;
A state or political subdivision, or its agency or instrumentality; or
An Indian tribal government or its subdivision, or its agency or instrumentality (participants must substantially perform services essential to governmental functions rather than commercial activities.)
They work much the same as 401(k) plans, though the employer contributions to the plan tend to be more central to the operation of the plan.
Employees may or may not make contributions to their plans, but employers are required to, and those contributions tend to be more generous than what is typically seen with the employer matching contributions on 401(k) plans.
Employee Contributions – Your Consent Is NOT Required!
401(a) plans can provide for either voluntary or mandatory contributions by employees, and this decision is made by the employer as part of the plan. The employer can also determine whether the contributions are made on a pre-tax or after-tax basis.
Once again, employer contributions to a 401(a) plan are mandatory, regardless of whether or not employee contributions are required.
If employee contributions are mandatory, then they will be made on a pre-tax basis (tax-deductible). If they are voluntary, they are usually after-tax. Those contributions can represent up to 25% of the employee's total compensation. Any contributions to a 401(a) plan made by the employee are immediately vested (owned by the employee).
The employer contributions are typically made using either a fixed dollar amount, a percentage of your compensation, or a match of the employee's contributions.
Employer contributions are subject to vesting. That means you will have to work for the employer for a certain minimum number of years before you will have full ownership of those contributions.
The vesting schedule can be based either on cliff vesting, which provides for full vesting after a certain number of years, or graded vesting, which provides for incremental vesting over several years.
The maximum dollar amount of contributions to the plan, whether made by the employee or the employer, are capped out at $66,000 in 2023, a $5,000 increase from 2022. Unlike 401(k) plans, 401(a) plans do have a percentage limit, which is 25% of the employee's compensation. For that reason, the compensation limit for a 401(a) is now $330,000 for plan participants.
Now, notice that $66,000 actually represents only 20% of $330,000. That's because the calculation requires the dollar amount of the contribution to be calculated based on your income after the maximum contribution is deducted from that compensation.
401(a) Investment Options
In theory, investment options in a 401(a) plan can be just as diverse as they are in any other type of retirement plan. But, since the plans are sponsored by government agencies and educational institutions, the employers tend to have more control over those investment options. They also usually tend to be a lot more conservative in the choices provided.
The plan may work with a single mutual fund family, or it may restrict the number of investment options to something like six to twelve funds.
The funds provided often are also on the conservative side and may provide for a single stock fund, bond fund, stable value fund, government bond fund, and the like.
They may also offer target-date funds, which I'm not really a fan of since they provide more conservative returns and often higher fees.
401(a) plans may be less than desirable in regard to investment options, but that has to be counterbalanced against the higher contributions that are possible with them.
401(a) Plan Survivor Benefits
The survivor benefit rules for 401(a) plans are very similar to those of 401(k) and other plans. While you can designate one or more beneficiaries for the plan in the event of your death, if you fail to do so, your spouse will be the automatically designated survivor.
In fact, if you are married, 401(a) plans typically require your spouse is the beneficiary upon your death, and if it is not, then your spouse must waive his or her right to the proceeds of the plan in writing.
401(a) Plan Withdrawals
Withdrawing funds from a 401(a) plan also works similarly to that of other retirement plans. Any funds withdrawn that represent either pretax contributions or accumulated investment income are taxable at your ordinary income tax rates at the time of withdrawal.
If you make withdrawals prior to turning age 59 ½, you will also have to pay a 10% early withdrawal penalty. That penalty can be waived under certain specific IRS hardship provisions for qualified retirement plans.
Like other retirement plans, a 401(a) plan is also subject to required minimum distributions (RMDs) beginning at age 70 ½. You are not required to make withdrawals from the plan before reaching this age, even if you have reached the age of your actual retirement.
Even if you have not retired, various plans do provide for withdrawals while you are still employed. You may be given the option to withdraw voluntary after-tax contributions at any time or even after you reach a certain age, such as 59 ½, 62, 65, or whatever age is designated as your normal retirement age under the terms of the plan.
401(a) Rollover Rules
401(a) rollover rules are similar to what they are for the rollover of other tax-sheltered retirement plans. You can roll the proceeds of the plan over to the qualified plan of another employer (if the future employer accepts such rollovers) or into a traditional or self-directed IRA account.
The following exceptions apply to rollovers from a 401(a) plan, and they are common exceptions on all retirement plans. You cannot roll over money from the following sources:
Required minimum distributions
Amounts distributed to correct excess distributions
Amounts that represent loans from your plan
Dividends from your employer-issued securities (not likely with government or non-profit employers)
Life insurance premiums paid by the pan
Much as is the case with 401(k) plans, you can also either roll the plan balance into a traditional IRA, do a Roth IRA conversion, or a combination of both.
There is a bit of a complication with 401(a) rollovers if the plan includes both pretax and after-tax contributions. If the rollover includes after-tax contributions, this will represent a cost basis in your IRA.
These will be funds you can withdraw free from income tax since the tax was already paid on them during the contribution phase.
Once you take withdrawals from the IRA, the cost basis portion will be nontaxable, but the pretax contribution portion, as well as investment earnings, will be taxable to you as ordinary income.
But as is the case with IRA distributions in general, you cannot withdraw cost basis amounts first in order to avoid taxes. The distribution will be pro-rated across all of your IRAs, and only a percentage of your withdrawal will be tax-free.
It is also possible to transfer the entire balance to a Roth IRA by doing a Roth conversion. This process works the same as it does for a Roth conversion from any other type of tax-sheltered retirement plan.
You will pay ordinary income tax – but not the 10% early withdrawal penalty – on the portion of the plan that represents your pretax contributions and accumulated investment earnings, but not on the after-tax contributions.
Under the indirect transfer, you have the money from the 401(a) plan transferred to you first. You then have 60 days to transfer the funds to the new plan. Otherwise, the funds will be subject to ordinary income tax in the year of distribution, as well as the 10% early withdrawal penalty if you are under age 59 ½.
In the case of 401(a), if you use the indirect method, the employer is required to withhold 20% of the amount of the transfer for federal withholding taxes. This means you will only be able to transfer 80% of the balance. That will result in a taxable distribution of 20% of the plan proceeds unless you have other assets to make a 100% transfer.
Even though the 20% withholding can be recovered when you file your income tax for that year, if you don't have the funds to make up the difference between the plan balance and the 80% that you received, the end result will be a taxable distribution of the uncovered 20%.
So make sure if you do a rollover or Roth conversion of a 401(a) plan, you do a direct trustee-to-trustee transfer of the funds and avoid that whole potential tax mess.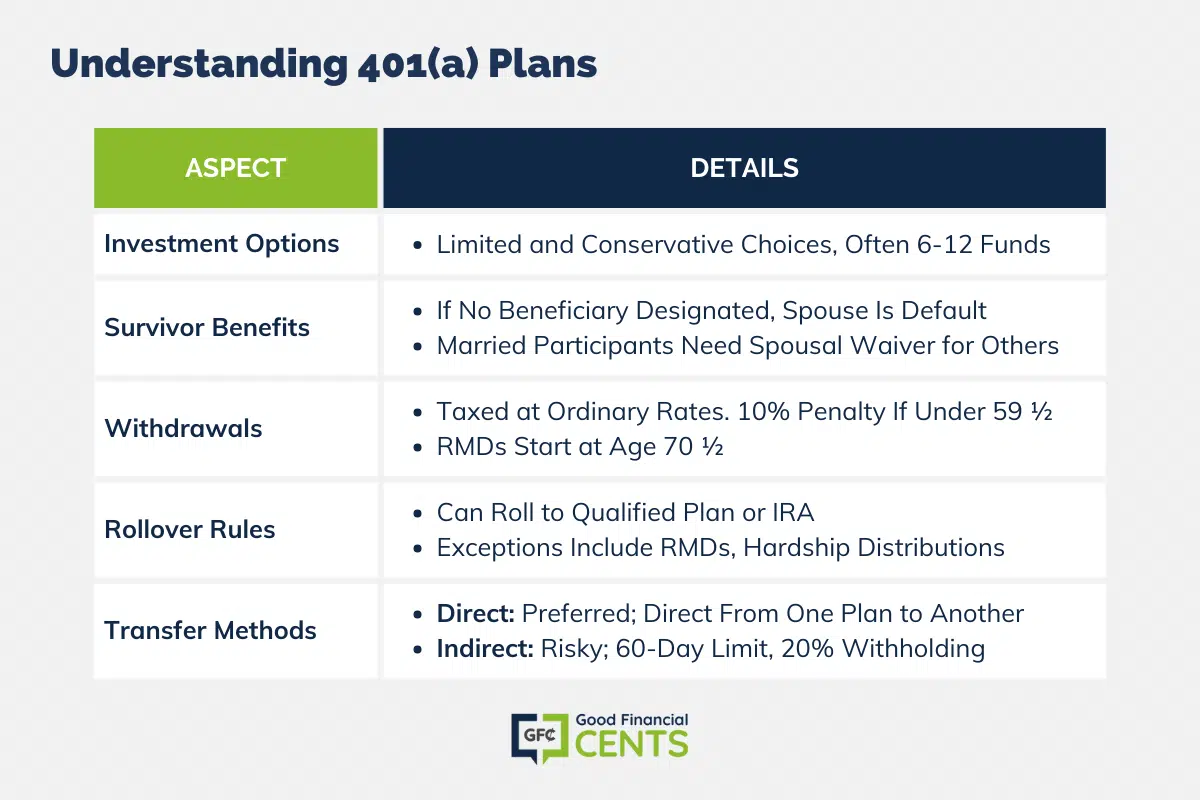 Where to Rollover
So there are the basics of the 401(a) plan, the 401(k) plans less well-known cousin. If you're working for a government agency, and particularly in an educational institution, there's a very good chance this is the plan you are in.
The Bottom Line – 401(a) Retirement Account Rules
401(a) retirement accounts are generally known for being a great way to save for the future, but there's more than meets the eye when it comes to the rules and regulations associated with them. It's important to understand what you're getting yourself into before you decide to invest your hard-earned cash in one of these plans.
From contribution limits to taxation rules and eligibility criteria, it pays off to know the ins and outs of 401(a) retirement accounts. Do your research so you can get the most bang for your buck when it comes time to tap into that 401(a).