When you're looking for a financial institution to handle your money, it's important to find the best place for you.
There are hundreds and hundreds of options you can choose from, and this is before you throw credit unions into the mix.
But you'd be doing yourself a disservice not to also consider these.
While credit unions offer all of the same products, services, and protection as a traditional bank, they tend to have much higher rates.
And, just like with banks, if you have your money in a credit union, it will be protected up to $250,000.
Plus, not only do they pay you more for your money, but credit unions also charge you less for borrowing.
Big banks are notorious for their massive fees and charges, while credit unions typically lower not only these but their interest rates as well.
The Best Credit Unions This Year
Below is a list of some of the best credit unions across the nation, but there are a few caveats to the list you should take note of when shopping around.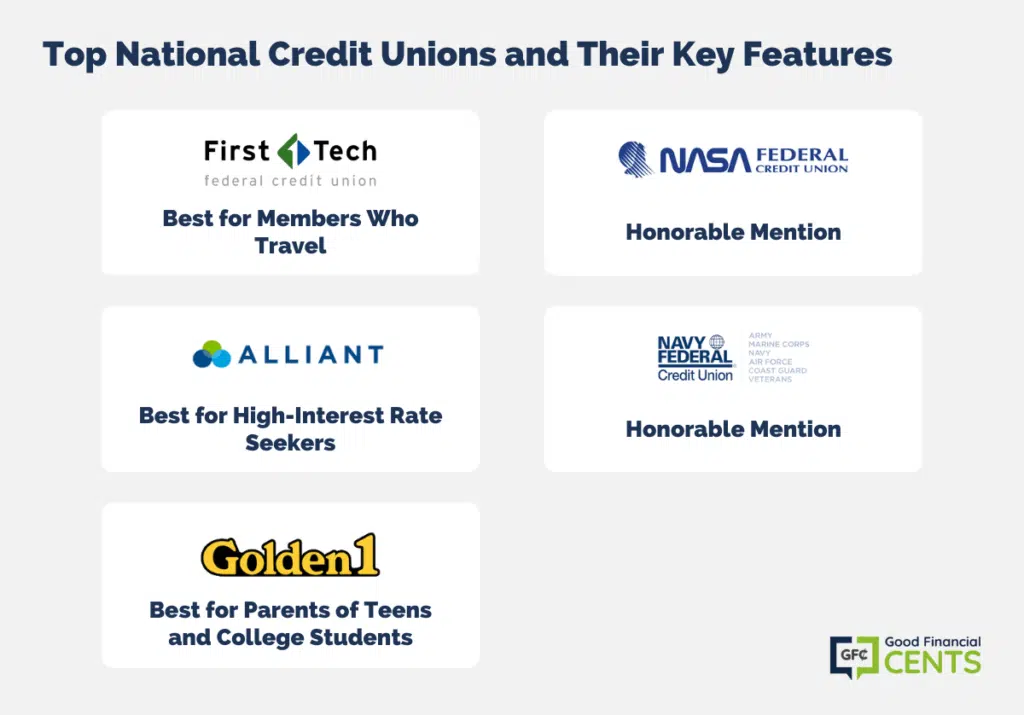 Two important factors that went on this list are availability and size, which means smaller, local credit unions were not included in the list (because it would have taken forever).
All of the credit unions on this list are great choices, but you should also look at credit unions in your own town.
When compiling the list of best credit unions, the requirements to join had to be universal. The vast majority of credit unions only allow members who "live, work, or worship" in the city limits of the union.
For this list, the unions don't have any location restrictions for members.
If you want a credit union that has lower fees, then one union will be better than the others. On the other hand, if you want better loan rates, then another credit union will make a better choice. There is no one "best credit union," which is why I broke them up into "best for" categories individually.
First Tech – Best for Members Who Travel
Our First Tech Review
One of the most common complaints of credit unions is they are smaller and less accessible than large banks. Some of the larger banks can have several thousand branch locations across the nation, while credit unions may only have a couple dozen.
If you want access to most locations and branches, then First Tech is the credit union for you. First Tech gives you access to over 5,000 locations across the nation and you will have access to over 30,000 ATMs with no charges.
You may be wondering how a credit union has so many branches. First Tech itself has over 40 branches, but it partners with Co-op Shared Banking to give you access to your funds at the other 5,000+ participating credit unions.
Their headquarters is in California, but you don't have to live in-state to join. In fact, you can become a member online and it's very simple to do.
If you want to become a member and open an account, you can do it in less than an hour.
They have several account types you can open.
They have a few checking options, including:
Dividend Rewards Checking
As far as I can tell, none of these plans have any monthly fees, but if they do, they are very well hidden. Additionally, they don't have a minimum opening balance (technically they do, but it's $0.01).
For their Dividends Reward Checking account, you can now earn a 4% on the first $15,000 and 0.10% on the remaining balance.
This is drastically higher than you'll find with any other checking account on the market, but there are a few things you have to do to earn this rate every year.
If you want to enjoy the high interest rate, you need to:
Make at least 12 debit card transactions every month;
Sign up for e-statements; and
Have at least one direct deposit or ACH withdrawal.
One additional advantage of First Tech is its quality website and app, both of which are extremely easy to use, even if you don't have much experience with banking apps. Their iOS app has 4.7 out of 5 stars.
Alliant – Best for High-Interest Rate Seekers
Our Alliant Review
There are several ways you can qualify to be a member of Alliant Credit Union.
They partner with tons of companies across the nation, but if your business isn't on their list, all you have to do is donate to the Foster Care to Success (FCS) nonprofit, which Alliant partners with.
The FCS offers grants, mentoring, internships, and opportunities for teens in the United States who are "aging out" of foster care. By making a $10 donation (or more), you'll become an FCS member, which allows you to become an Alliant member.
There are a couple of different accounts Alliant offers, but I'm going to focus on the High-Rate Checking and the High-Rate Savings account.
If you want a new checking account, Alliant's High Rate Checking offers 0.25% APY.
If you want a savings account, check out Alliant's High-Rate Savings account, which also has a 3.10% APY.
See how this compares to the top online savings accounts right now.
As long as you sign up for their eStatements, you won't pay a monthly fee. They require you to make a $5 initial deposit, but they reimburse you the $5. Alliant offers a full-service experience, with a lot of online banking and investing tools, loans, mortgages, and access to "more ATMS than Chase and Bank of America combined."
Golden1 – Best for Parents of Teens and College Students
If you have a teen or a college student in your house and you want to get them started with a credit union account, Golden1 has two different accounts you can open.
The New Generation Checking is available for teens between the ages of 13 and 17. There are no monthly fees or minimum deposit requirements, and when the teen turns 18, the account is automatically turned into a Free Checking account.
Until then, daily ATM withdrawals are capped based on your teen's age, making it a great option for them to learn to spend responsibly:
13-15: $40 daily limit, when qualified;
16-17: $100 daily limit, when qualified;
Overall: $500 daily for withdrawals and purchases.
Another option for students is the Student Checking (appropriately named), and it's available to students who are 17 or older, as long as they have proof of enrollment or attendance at a college. After five years, this plan also becomes a Free Checking account.
If you live in one of the 38 Californian counties, you can qualify to become a member.
The other way is to join the Financial Fitness Association, which will cost $8. Afterwards, you become a member.
Don't worry parents, there are checking and savings account options for adults as well.
Their Premium Checking account earns dividends as long as you keep a balance of $1,000. Not only will this policy earn dividends if you keep $1,000 in the policy, but you will also be exempt from any monthly fees.
NASA Federal Credit Union
Our NASA Federal Review
Yes, the same NASA that goes to space also has a credit union. Even better, you can join the credit union (without trekking to other galaxies).
NASA Federal Credit Union has a few different ways you can qualify to become a member. You can automatically join as a current NASA employee, NASA retiree, or relative of a current NASA Federal member.
If you aren't one of the people above, the easiest way is to join the National Space Society. You can become a member of the Space Society for $20.
After that, you can open a basic member savings account.
If you are looking for a credit union with great savings accounts and investment tools, NASA Federal should be one of the unions at the top of your list.
They have a tool called eVision, which allows you to research stocks and funds, as well as get quotes, news, and analysis. If you're a hands-on investor, this could be the perfect tool for you and your portfolio.
One of the unique benefits of becoming a NASA Federal Credit Union member is access to their credit cards.
They have several cards to meet your spending needs. If you want a good all-around credit union that can assist you in just about every financial area, NASA Federal is a great place to start your search.
Navy Federal Credit Union
Our Navy Federal Review
The only reason Navy Federal wasn't on the list of top 3 is because of their membership qualifications. To become a member, you have to either be in the military (or a veteran) or be related to someone who was or is in the military.
Aside from their membership qualifications, NFCU is an excellent option when you're searching for a credit union.
One reason NFCU shines is their rates, both on their savings accounts and on their loans. If you're looking for a credit union for a mortgage, credit card, or auto loan, you'll be hard-pressed to find an institution with better rates.
Not only will you have access to their excellent loan rates, but most of their checking accounts don't have any monthly fees.
They have about 5 different accounts you can choose from, all of which have various benefits and advantages you need to compare. There are plenty of banks and credit unions out there with reasonable APY rates, but they also come with steep monthly fees.
With NFCU, you can get the returns without having them eaten by maintenance fees.
Additionally, you'll be able to get your ATM fees reimbursed. Every statement period, you can get up to $10 of ATM fees rebated.
Finding the Best Credit Union for You
These are only five of the hundreds of credit unions out there. If none of these work for you, don't worry.
There are plenty of other options out there.
Take the time to decide what's most important to you. As we mentioned earlier, make sure you compare the local credit unions close to you. The smaller, local credit unions can be on par with the larger ones we listed above.
Check their rates, rewards, and account types, and you're bound to find a great credit union that works for you.